The German WWII 'Jeep-Like' vehicles
The Kubelwagen & the Schwimmwagen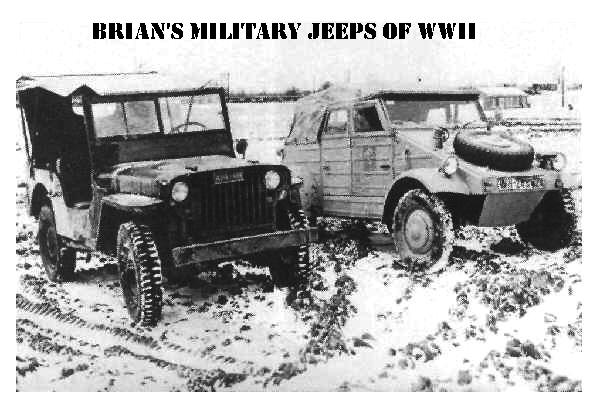 Early Willys Slatgrill MB with a Afrika Korps Kubelwagen in Winter conditions
Kuebelwagen - VW Type 82
Volkswagon built Germany's small 'jeep-like' utility military vehicle. It was called the VW Type 82 Kuebelwagen. The German Kuebelwagen was a wartime vehicle and was produced from 1939 to 1945. It was designed to try to perform many of the same duties that the American Jeep (Willys MB, Ford GPW) was performing in World War Two. The Kubelwagen however had the following differences from the American Jeep:
The Kubelwagen had only two-wheel drive, while the jeep had four-wheel drive.
The Kubelwagen had a 4 speed manual transmission with overdrive, while the jeep was only a 3 speed
The Kubelwagen had an air-cooled engine, while the jeep was liquid cooled.
The Kubelwagen was a larger vehicle than the WWII Jeep.
The Kubelwagen weighed much less than the WW2 Jeep, mostly because of its uni-body construction.
There was even a swimming version made, called the Schwimmwagen. It was used during the war to perform much the same duties as the amphibious Ford GPA.
Engine Specs.
Model ......... air-cooled VW
Cylinders ..... 4, horizontally opposed
Size .......... 61 cu. in. (1 Ltr)
AMA HP ........ 11.2
Bore .......... 2 3/4"
Stroke ........ 2 17/32"
Compression ... 6.1:1
Valves ........ in head
Kubelwagen
Sinisterly when Porsche was given the contract to design and build the Volkswagen one other stipulation was made; it must be capable of carrying 3 men, a machine-gun and ammunition.
In 1937 one of the prototype cars was adapted to meet this specification and this car became the Type 62, a doorless Kubelwagen.
After more modification which included doors and squarer bodywork the Kubelwagen saw military action but had to be further modified to slow the vehicle down to a speed less than 5 mph. This was achieved by Ferdinand Porsche's son, Ferry, who came up with a brilliant technical design of fitting reduction gears to each rear hub.
This also had a beneficial side effect of raising the ground clearance and making it ideal for off-road use.
The Kubelwagen was further developed and coded Type 82 and total production of the Kubelwagen reached 50,435.
Kommandeurwagen
In 1942 yet another derivative of the KdF-Wagen appeared. This time it was an amalgamation of the Kubelwagen chassis and the KdF-Wagen body with four-wheel drive (Finally a German 4x4 Beetle). Total Kommandeurwagen production reached 669 including 2 built out of spare parts at the end of the war.




The Schwimmwagen
Schwimmwagen
In 1940 another vehicle prototype evolved from the KdF-Wagen this was a road and water going machine coded the Type 128, the Schwimmwagen. It's top speed on land was 50 mph and in the water was 6 mph. The Schwimmwagen was further developed into a smaller, faster machine the Type 166 and was produced for 3 years and total production reached 14,283.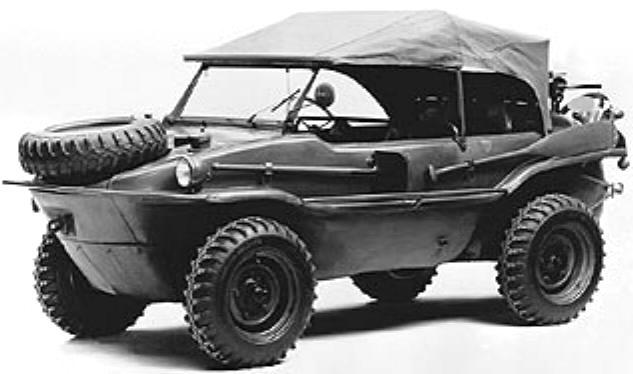 Original Picture of a WWII German Schwimmwagen from 1942


Soldiers of the 100th Infantry Battalion of the 442nd Regimental Combat Team in a German Schwimmwagen captured during the battle for Leghorn
Date: 12 July 1944
Location: Castellina Sector, Italy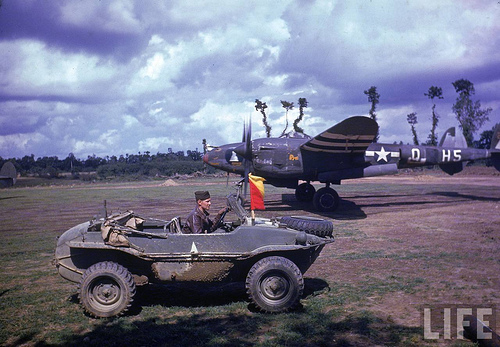 A German Schwimmwagen captured by the Americans. Repainted with the White Star and put into service in France with the 392nd Fighter Squadron, 367th Fighter Group, 9th Army Air Force who are getting ready to fly a mission on August 26, 1944. The plane is a P-38 named "Miss Mass" flown by Lt. V.J. Noble. P-38J-10-LO serial number 42-67449 was originally assigned to the 20th Fighter Group.

Date: 26 August 1944
Location: France
A wonderfully restored Schwimmwagen
A nice Pair of Schwimmwagens. Some Scwimmwagens Still Swim! Photo #2, Photo #3
swim wagon,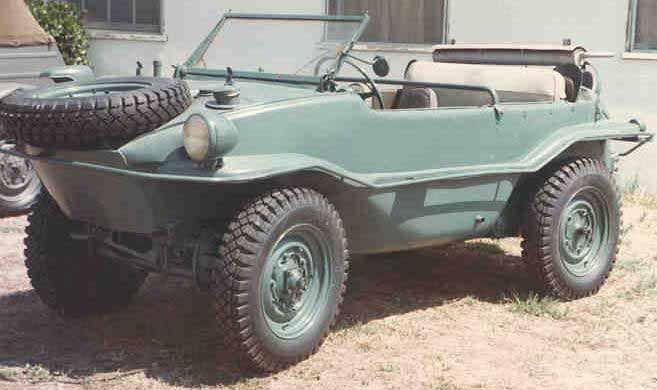 Want to see the Russian Built Copy of the GPA?
The Russians Built a copy of the Ford GPA called the GAZ-46

Want to see the American Built GPA?
The Ford GPA Amphibious Jeep



Please don't pirate my pictures or text. Ask my permission.
Copyright © 1998-2012 Brian French. All Rights Reserved