!-onMouseover Link CSS Script-© Dynamic Drive (www.dynamicdrive.com). For full source code, installation instructions, 100's more DHTML scripts, and Terms Of Use, visit dynamicdrive.com-->

Sponsors
The Brian's Military Jeeps Toyota V6 SR5 4x4 Xtra-Cab Truck you see at all the shows and events has been sponsored by the following companies.
We gratefully acknowledge their contributions to making our truck such a distinctive vehicle. It is wonderful to drive on the long road trip to get to the shows. It is also a blast to go off roading with.

Geisen's Auto Interiors
Geisen's Auto Upholstery
Don has done some excellent work on custom vinyl & leather jobs as well as all sorts of other restoration help. His work is highly recommended for all types of domestic and foreign, modern and classic automobiles including custom fabrication work. Hot Rods, and restorations are a specialty. Thanks for the hands help on as well as encouragement over the years.

Geisen's Auto Interiors, 23011 Moulton Pkwy Ste H1, Laguna Hills, CA 92653 (949) 581-4530 (Map)

Wet Okole
Extremely Stylish, comfortable, and so well fitted are the Wet Okole Seat Covers.
Wet Okole wet suit seat covers are easy to keep clean and comfortable in both cold winter and hot summer days. Since they are custom tailored to the vehicle model the fit is perfect. Sponge clean. Very durable. Great colors. I canít say enough good things about them.
Wet Okole sponsored us with both Front Seats and Rear seat covers! Thanks!

Newport Beach, CA (888)-24-OKOLE

Piaa
Dick Cepek
Dick Cepek helped us secure joint sponsorship from Piaa in the form of their #8362 Piaa 80 ProXT 120w Round Off Road Driving Lights (Link) and #959 ION Crystal Projection Fog Lights. The Drive lights offer a long-range bright white beam that comes in very handy during evening travels in the backwoods. The Ion Projector Fog Lights have a great blue reflection when off during the daytime that really catches your attention. At night in foggy conditions, they really light up the ground immediately in front of you with a wide angle yellow light that seems to cut right through the haze. The Ion Projectors are my favorite lights. Thanks again Piaa & Dick Cepek!

Dick Cepek, Los Angeles, CA Store - (update - now closed)

Rancho Shocks
Dick Cepek
Dick Cepek also sponsored us with Rancho RS5000 Shock Absorbers. They give a firm control when going through the grueling off road paths we have taken. I had put over 65,000 miles on them before wear & tear claimed them.

Dick Cepek, Garden Grove, CA Store - (update - now closed)

Waag
Waag sponsored us with a Deluxe Black Front Push bar. This wrap around push bar features an easy 4 bolt installation and full front end protection. Tubular construction for sides bars that conform to and protect the corner lights, and headlights with additional slats added to protect headlight glass. The Bar features rubber strips that have come in handy saving paint & damage when two separate people have backed into out truck. Our off road, driving & fog lights fit nicely on the cross bar after a little modification on our part to get them all on. The headlight protective grill saved me a potential big dollar repair when a jeep I was following on the freeway lost his chrome tailpipe tip. It bounced off the pavement and collided with my grill at 65 mph with a loud clank. Upon inspection a small nick was all the damage I had. Without the guard, I would have had headlight, hood, and front grill trim damage.

Van Nuys, CA (877) 883-9292

RAM
Ram provided us with both Rear Corner Taillight protective grills and Chrome Nerf or Side Bars. The sidebars add an unbelievable amount of style & class to the looks of the truck. The make entry and exit a breeze. There have been several occasions when mud & water were just outside the door. Thanks to the nerf bar I was able to move down the bar and avoid having to get my feet wet or muddy.

The Rear Protective Taillight Corner Grills add to the Safari - look of the vehicle. They have saved me a cracked lens and scratched paint at least once in the grocery store parking lot when a loose shopping cart bounced off the one on the driver's side.

Los Angeles, CA (800) 421-6288

GTS
The folks at GTS (GT Styling) provided me with their wonderful Snap-on Headlight Guards and Snap on Omni-Guard Bug Shield and Tailblazer II Taillight Covers. Both the Bug Deflector and Headlight Covers were a snap to install. Both are custom made to form fit the vehicle. The hug the curves of the body shape and add a lot of styling to the look of the truck. The ones we chose are the Carbon Fiber look versions. They are also offered in both smoke and clear as well. The covers add aerodynamic looks and help protect the vehicles finish from bugs, rocks, and other debris, as well as deflect rain away from the windshield. The best part about all their stuff is the fit and ease of installation. There are no holes to drill. Re: Installation. The hardest part was opening the box!. Just pop the hood, clean the spot you want to mount them, snap them on. The Tailblazer II tail light covers added a unique look to the rear of the truck. Again installation was a breeze.

Irvine, CA (714) 632-1709

Dick Cepek
Dick Cepek sponsored us with several items, including tires and a pair of their Compact Diachronic Pencil Beam driving lights with Ionic coating. These lights come in a great aluminum housing. The lenses have a ionic coating giving the lenses a yellow and blue look. When the halogen bulbs are lit, they produce a beam designed to cut through fog & haze better than a normal light would. Their small size allowed them to be snuck into a small space just above the license plate.

The 31 x 10.5 x 15 Dick Cepek Brand Off Road Tires performed very well, and had good handling characteristics both off-road and on. They performed very well in the sand, and were very adequate at slogging trough mud. Mileage and wear on the highway were also a plus.

Garden Grove, CA Store - (update - now closed)
Bob Hickey at Anywhere Auto & Marine (update - retired/no longer in business) - contributed his time & expertise and lots of small items, and cans of soda. Thanks for the use of the glass bead cabinet!
Mike at Engine Supply - 304 E Dyer Rd, Santa Ana, CA 92707 (714) 556-0310 - for doing great work rebuilding several WWII Jeep engines, Both my 360 v-8 CJ Jeep Engines, and my Toyota Truck engine.
John from Specialty Truck Parts - Pomona Swap Meet, CA - Bed liner and ABS Wheel Hump Storage Boxes. They have held up a long time and have protected and stored well all the many Jeep parts hauled back from all the swap meets.
Don & Randy at Off Road General Store (update - they are no longer in business)- Laguna Hills, CA 92653 - Friendly competition with restoring a military Willys Jeep. Mine = WWII, Theirs = M38. Thanks for the deals/donations of performance parts as well as advice + help installing parts on the Big V8 Jeep CJ-7's.
Browns Automotive, Costa Mesa for the engine tuning & tweaking.
TAG Automotive Repair, 524 E. Brannen Unit #2, Flagstaff AZ 86001 - (928) 779-0658
These guys were lifesavers when I had a breakdown 80 miles away on a weekend. They got me in in short order, and said they would stay after hours if need be to get me back on the road on my trip to Texas. Turns out they did a diagnosis, found the parts, got the parts, and finished the install right at 5pm. I was super impressed by how clean the shop was, they had great equipment, and the amazing "Customer Service Attitude" was something out of the days gone by when neighbors helped neighbors (and in this case a total stranger). Maybe I am just jaded by living in Calif. for 40+ years. but I think it is a rarity in this day and age to find a service company that is willing to stay open after hours to help a stranger get back on the road when stranded 1000 miles from their destination... without taking advantage of the situation and billing top dollar for it. The bill they gave me was less than the competition in their town (I called around while waiting 2 hours for the tow truck to pick me up). Thanks again Tom & Gene at TAG. I am totally impressed and wish you guys all the best, Brian

Places I Show and Events I have Attended;
South Orange County Hot Rod Night, Fuddruckers, Lake Forest, CA - Tuesdays, weekly.
Pomona Antique Car & Hot Rod Swap Meet, LA, CA. - Semi-Monthly.
Long Beach Hi-Performance Swap Meet, Long Beach, CA - Monthly.
San Diego Car Show & Swap Meet, San Diego, CA - Semi-monthly.
Big 3 Swap Meet & Car Corral, San Diego, CA - Annually.
Southern Calif. Military Vehicle Collectors Club Swap Meet, Glendale, CA - (See My List) - Monthly.
Tower Park WWII Military Vehicle Show, Swap and Camp Out, Lodi, CA - (See My List) - Annually.
Big Bear WWII Military Vehicle Show, Swap and Camp Out, Modesto/Waterford, CA - (See My List) - Annually.
Woodson Bridge WWII Military Vehicle Show, Swap and Camp Out, Corning CA - (See My List) - Annually.
Surplus City Military Vehicle Show, Swap and Camp Out, Oroville, CA - (See My List) - Annually.
National Military Vehicle Preservation Association Convention - All over the US (See My List) - Annually.
Palm Springs Air Museum, Palm Springs CA - Special Events.
El Toro Air Show, El Toro USMC Base, Lake Forest, CA - (See My List) - Annually - update (closed).
Great Western Gun Show, LA County Fairgrounds, Semi Annually - update (closed).
Lion Country Safari Car Shows, Irvine, CA - Special Events.
Rose Bowl Swap Meet, Rose Bowl, Pasadena, CA - Monthly.
Long Beach Antique Swap Meet, Monthly, Long Beach, CA - Monthly.
Troubleshooter Antique Swap Meet, Anaheim/Fullerton, CA - Bi-annually.
LA County Computer Swap Meet, LA County Fairgrounds, Monthly.
LA County Fair, LA County Fairgrounds, Annually.
OC County Fair, OC County Fairgrounds, Annually.
CSLA, Calif. State Library Association Convention - All Over Calif. - Annually.
Orange Coast Jeep Contest, Costa Mesa, CA - pop in when I can.
Capo Valley 4 wheelers Jeep Club, Dana Point, CA - pop in when I can.
Hot August Nights, Reno NV - pop in when I can.
NILPS, Henderson Convention Center, Henderson, NV - Annually.
Glamis Sand Dunes Off Road Park, Glamis, CA - when I can.
For More Hot Rod Events in California (See List at www.hotrodscustomstuff.com)
Thanks for visiting!


Free counters provided by Andale.
PHOTOS FROM EVENTS BELOW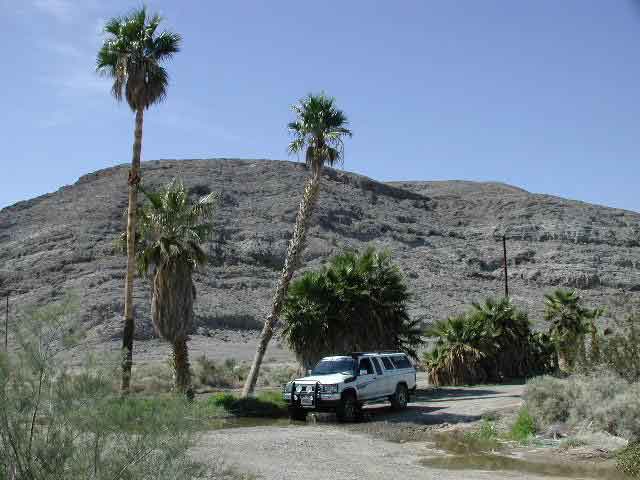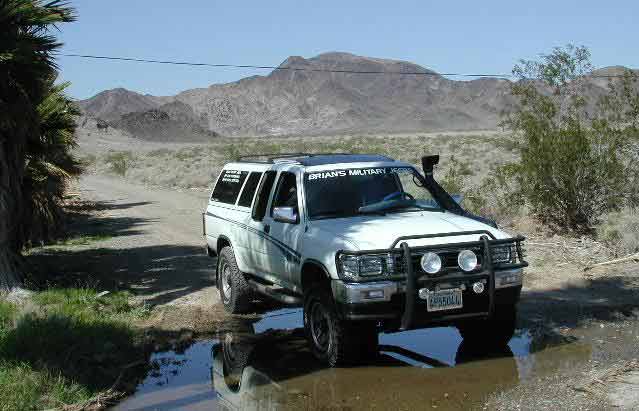 Hi Desert - Calif & Nevada Border, outside Baker, CA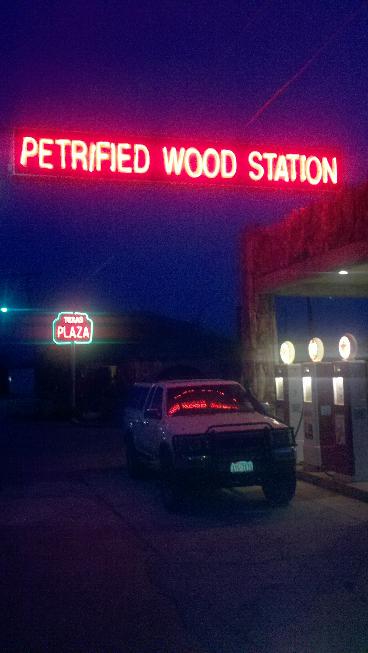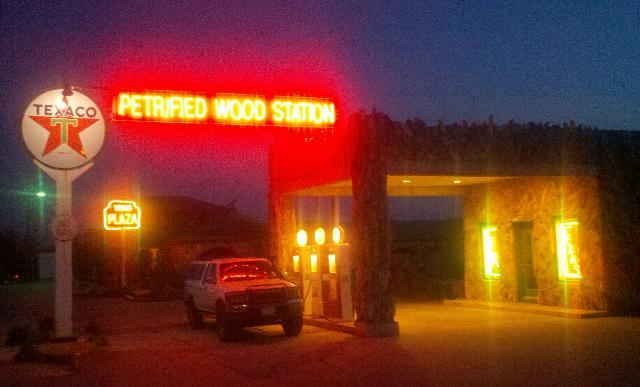 Petrified Wood Station - Gas Station & Traveler's Camp - est. 1927 - Decatur, Texas - Link 1 - Link2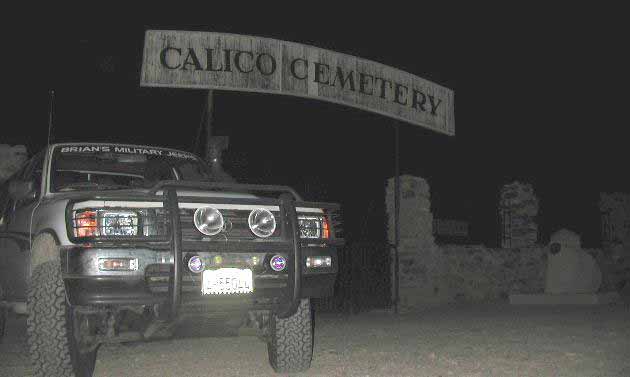 Calico Ghost Town Cemetery - est. 1880 - Calico, CA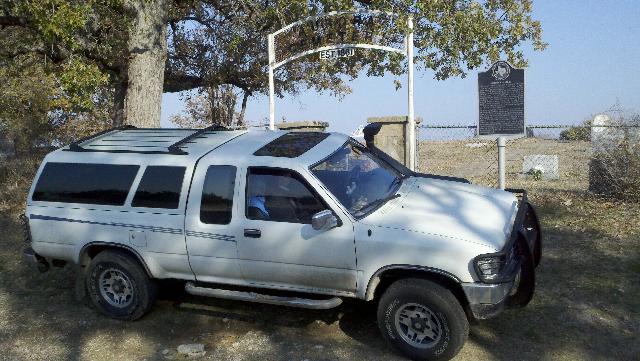 Aurora Cemetery - est. 1861 - Alien Spaceship Crash Burial Site, 1897 - Aurora, Texas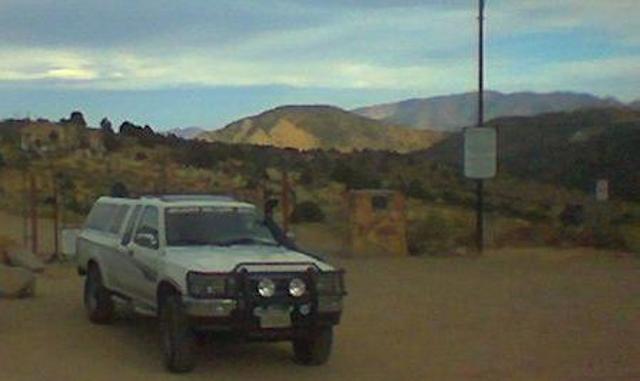 Virginia City Cemetery - est. 1859 - Virginia City, NV - Link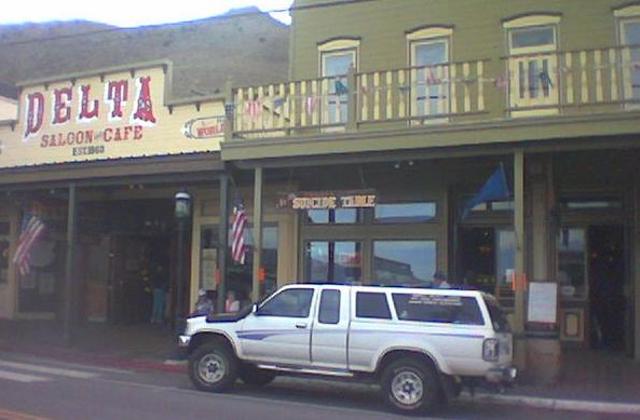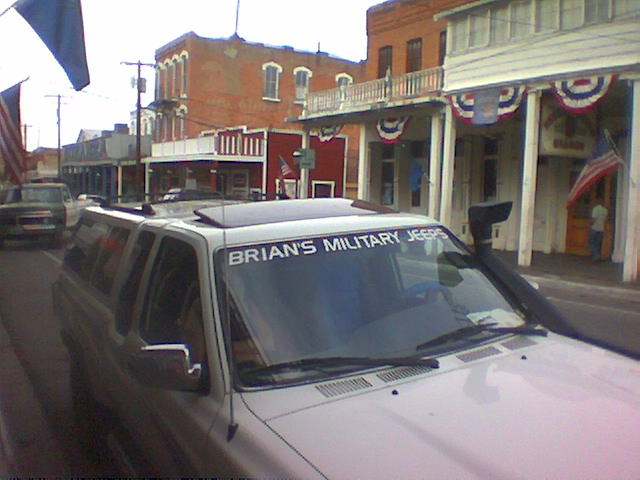 Virginia City, NV - est. 1859 - Home of the 'Bucket of Blood Saloon', and the 'Suicide Table'


Fort Tejon and Tejon Pass Wildflowers off 5 fwy (Gold, Yellow, Orange, Purple) - Ft. Tejon, CA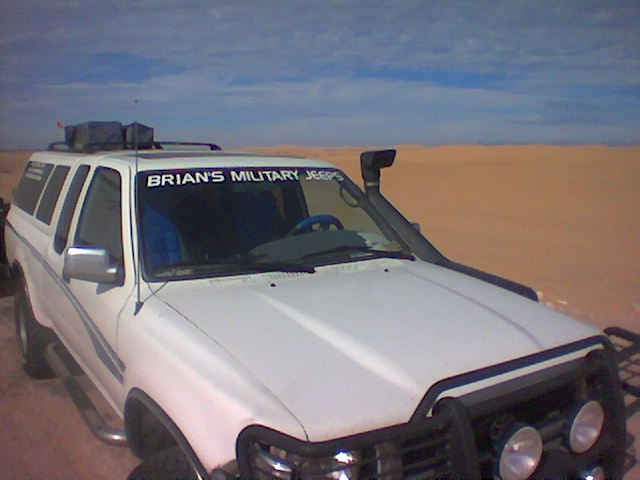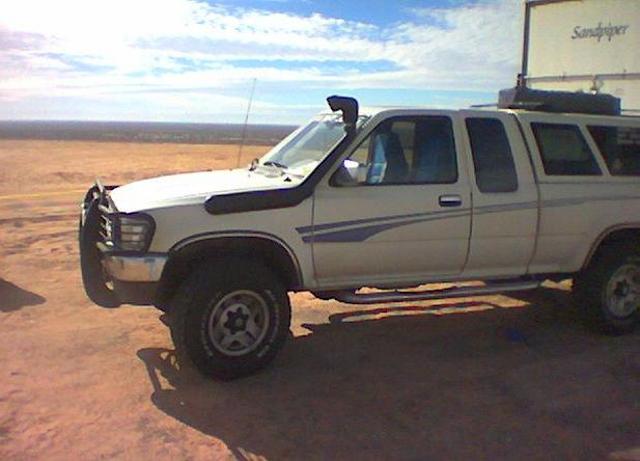 Glamis Sand Dunes, Glamis, CA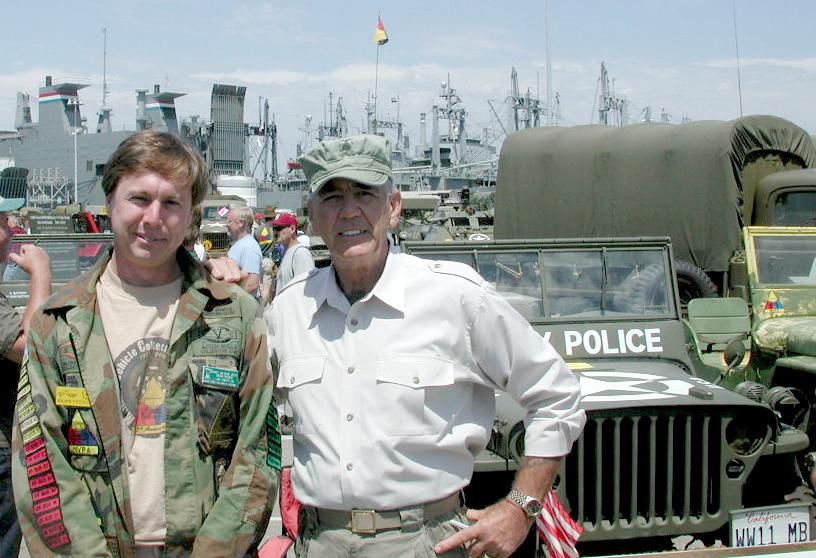 R. Lee Ermey & myself at the 2003 MVPA / MVCC Convention - Alameda, CA

Henderson Nevada - 2003 NILPS Meet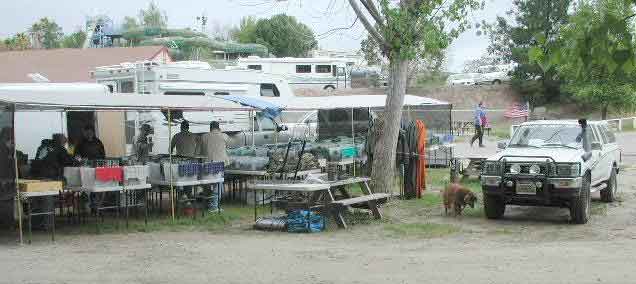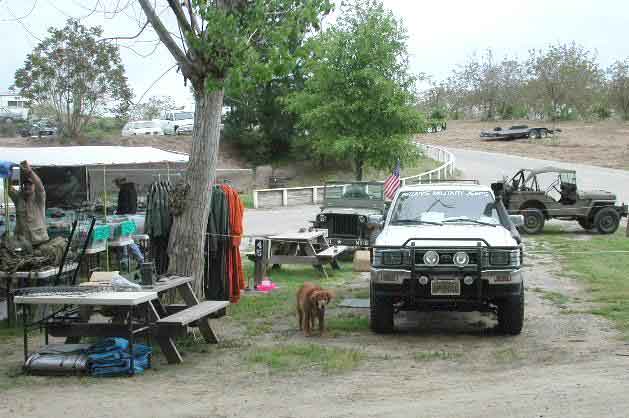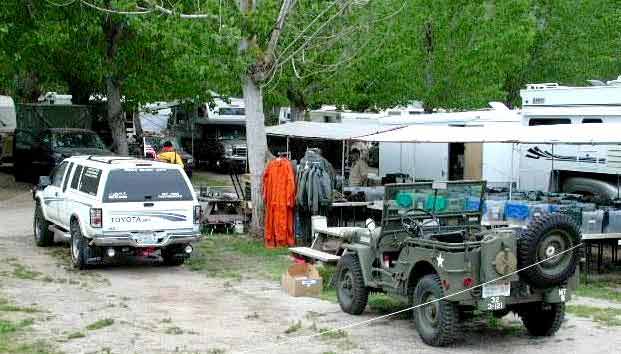 2003 Big Bear MVCC Show, Swap Meet, & Camp Out, Corning, CA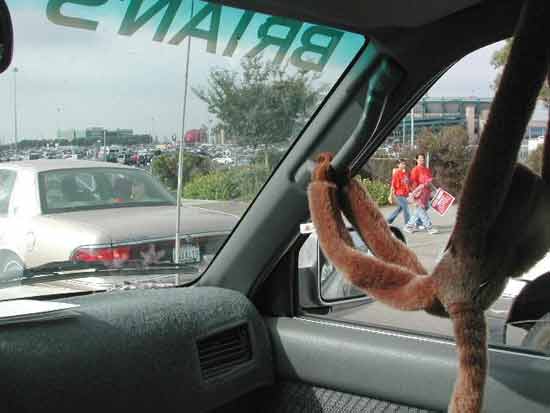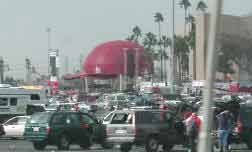 World Series Rally Monkey - 2002 - Anaheim Stadium, Anaheim, CA - World Champion Angels!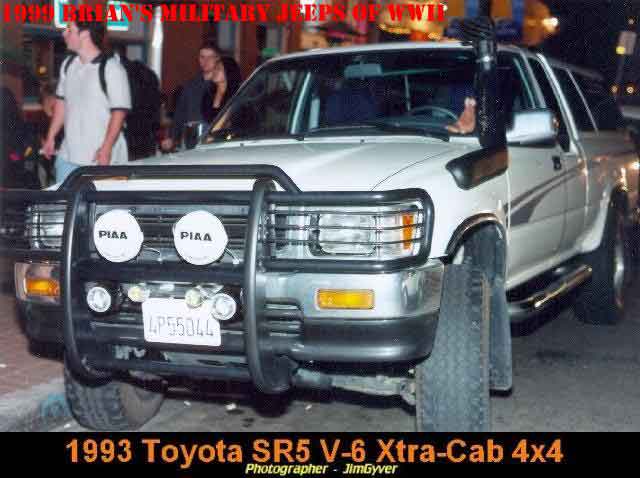 1998 Super Bowl - Gas Lamp District - San Diego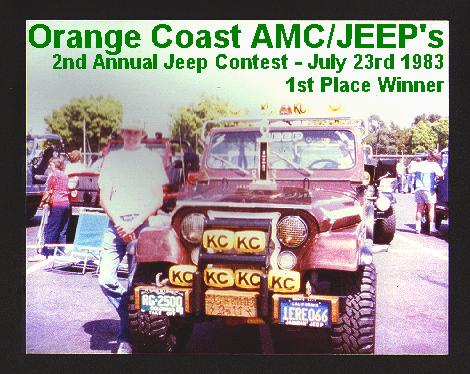 Please don't pirate my pictures or text. Ask my permission.
Copyright © 1998-2012 Brian French. All Rights Reserved

floor mats
ARB snorkle
Camper shell
Jacobs Wire & K&N Air Filter
valentine radar
Downey off road
toyota